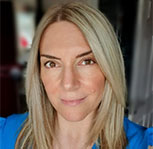 In this episode of Oxford Ed Chat, we welcome Louise Pennington and Adam Gaskell to chat about supporting secondary transition in maths. Louise and Adam discuss removing barriers to maths learning, the benefits of using manipulatives and the meaning of mastery. 
Louise Pennington is Professional Development lead for Oxford University Press, previous teacher, specialist maths teacher and local authority SEND Team lead working with both primary and secondary schools, students and parents. She is a Numicon Author and vice-chair of the Mathematical Association's joint primary group. Louise tweets at @pdLouiseP 
Adam Gaskell is Head of Mathematics at a Leicestershire secondary school, NPQML and NCETM Mastery Advocate. Adam tweets at @MrGTeach 
Numicon Big Ideas provides engaging and confidence building activities for embedding the key concepts in upper Key Stage 2, offering extra support in Maths as students settle in. 
Find out more about resources to support transition to secondary school here.