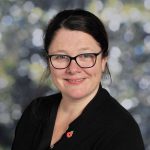 In this episode of our series Word Up with Helen Prince, Helen and Moira Marder discuss the effective leadership techniques Moira has used across the Ted Wragg Trust, a group of 12 schools and 9000 pupils.
They talk about the importance of creating a strong team and creating sustainability with a long–term vision for schools. A lovely conversation about optimism and creating opportunities for our young people.
Moira is the Chief Executive Officer of The Ted Wragg Multi-Academy Trust; an Exeter-based Trust set up in 2013 to transform the quality of education and life chances for all pupils in Exeter. 
Access the content referenced in this episode here: www.oup.com/education/podcasts