8. A lifelong love of storytelling – part 1
8. A lifelong love of storytelling – part 1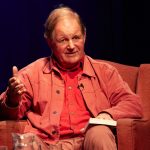 Helen Prince talks to Michael Morpurgo about his childhood, teaching career and success as a storyteller and writer. We learn how Michael's love of stories was inspired by his actor mother and how a courageous decision to tell his first story to a Year 6 class, along with encouragement from Headteacher Mrs Skiffington, opened the door to him becoming an author of magical children's books.
Michael Morpurgo is an award-winning storyteller, author, poet and playwright who has written over 120 books; a former teacher who went on to become Children's Laureate. Michael is also series editor of TreeTops Greatest Stories published by Oxford University Press.
Further reading and support:
Explore TreeTops Greatest Stories.
Find out how your child expands their vocabulary at primary school, and discover how you can help them learn new vocabulary at home here.