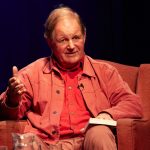 In this episode of our series Word Up with Helen Prince, Helen chats to Michael Morpurgo about his childhood, teaching career and success as a storyteller and writer. We learn how Michael's love of stories was inspired by his actor mother and how a courageous decision to tell his first story to a Year 6 class, along with encouragement from Headteacher Mrs Skiffington, opened the door to him becoming an author of magical children's books.
If you missed part 1 of this podcast we would recommend listening to that before tuning into part 2.
Michael Morpurgo is an award-winning storyteller, author, poet and playwright who has written over 120 books; a former teacher who went on to become Children's Laureate. Michael is also series editor of TreeTops Greatest Stories published by Oxford University Press.
Access the content referenced in this episode here: www.oup.com/education/podcasts