14. Teaching tips for the Key Stage 2 classroom with Sophie Bartlett
14. Teaching tips for the Key Stage 2 classroom with Sophie Bartlett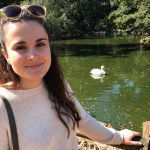 Helen Prince talks to Sophie Bartlett about her experiences of being a primary Year 5/6 teacher. Sophie shares some great tips on how to use vocabulary in mixed year groups and explains how she successfully teaches whole class reading using techniques including echo reading. Sophie also talks about how she uses Twitter as a positive way to engage and support other teachers and NQTs.
Sophie Bartlett is a Year 5/6 primary teacher, English & curriculum lead, and the brains behind #TeachLikeAChumpion. She tweets at @_MissieBee
Further reading and support:
The 3 Cs for a successful transition to secondary school. Emily Weston shares her top tips for a successful transition from Year 6 to Year 7 on the Oxford Education Blog.
Download our newest report 'How Schools are Closing the Word Gap: The Oxford Language Report 2021-22' for a series of case studies from teachers packed with ideas and suggestions for narrowing the Word Gap.
Explore TreeTops Greatest Stories, a rich series of 39 key stories, handpicked by world famous author Michael Morpurgo, to enthral children and develop and extend their reading experiences.